5 Top Carbon Nanotube Startups Impacting Engineering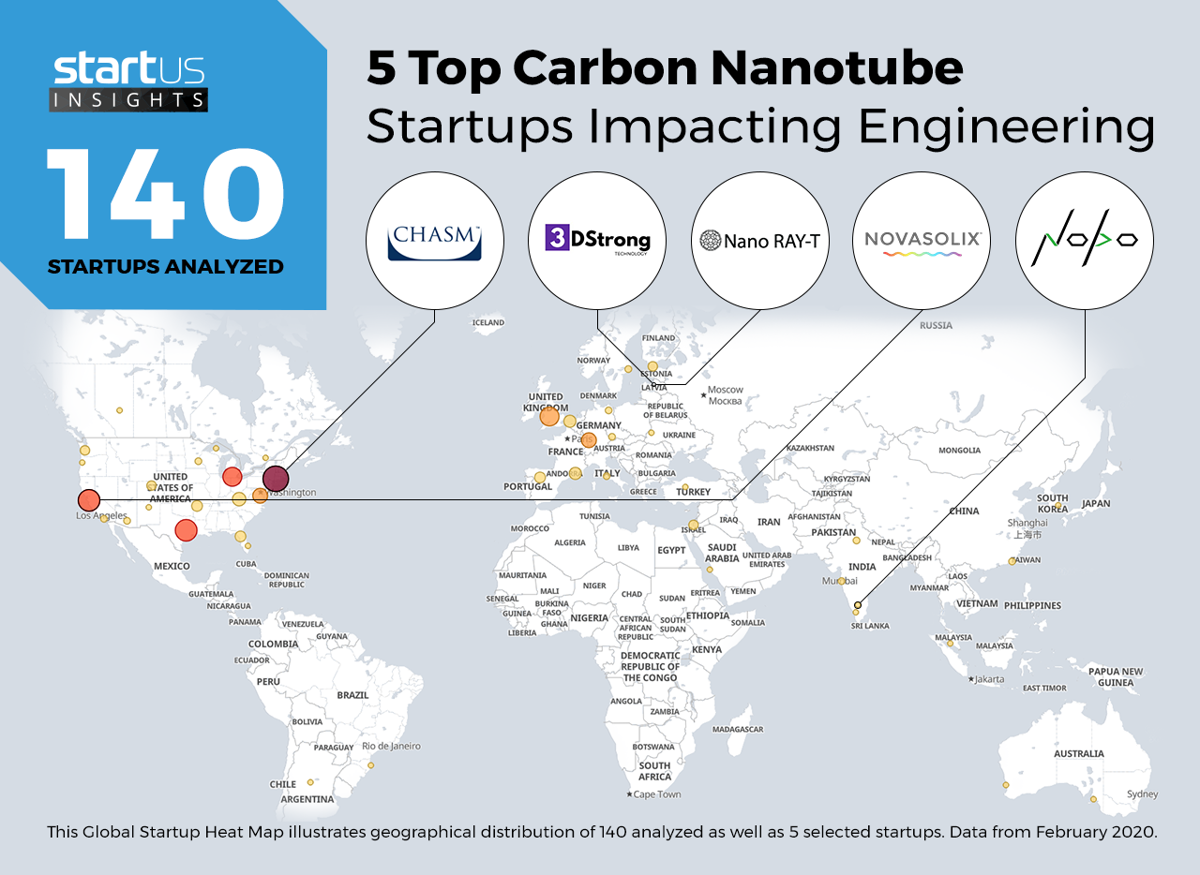 Our Innovation Analysts recently looked into emerging technologies and up-and-coming startups working on solutions for the engineering sector. As there is a large number of startups working on a wide variety of solutions, we want to share our insights with you. This time, we are taking a look at 5 promising Carbon Nanotube startups.
Heat Map: 5 Top Carbon Nanotube Startups
Using our StartUs Insights Platform, covering 1.116.000+ startups & emerging companies, we looked at innovation in the field of carbon nanotubes. For this research, we identified 140 relevant solutions and picked 5 to showcase below. These companies were chosen based on a data-driven startup scouting approach, taking into account factors such as location, founding year, and technology among others. Depending on your specific criteria, the top picks might look entirely different.
The Global Startup Heat Map below highlights 5 startups & emerging companies developing carbon nanotube solutions. Moreover, the Heat Map reveals regions that observe a high startup activity and illustrates the geographic distribution of all 140 companies we analyzed for this specific topic.
Nano RAY-T – Carbon Nanotube-Enhanced Batteries
Battery technology regularly evolves to achieve a greater charge capacity with a smaller form factor, while maintaining structural integrity. Newly-developed carbon nanotube-based batteries can maintain up to twice the charge of a traditional lithium-ion battery, which is highly beneficial for future applications in 5G and mobile computing, among others.
Nano RAY-T, a startup based in Latvia, provides a technology platform for carbon nanotubes manufacturing. Their platform integrates or grows carbon nanotubes on both conductive and non-conductive substrates. High purity and stable characteristics of their carbon nanotubes create an ideal material for use in multiple applications such as electric vehicles, energy storage, military equipment, and more..........
https://www.startus-insights.com/innovators-guide/5-top-carbon-nanotube-startups-impacting-engineering/
No comments
Leave a reply